Scooter is a Red and White Parti Colored American Cocker Spaniel who lives in Baltimore, Maryland. He loves to get his picture taken, so this site is devoted to showing off some of his best pictures while providing some tips on raising a Cocker Spaniel puppy of your own!

If you like the photos or the site, please email and let us know....
Check out the awards that this website has won!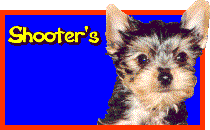 Shooter's Cool Site Award
Sponsored by Stanley London
Feel free to nominate www.scooterthecocker.com for any website awards you may find!!!